Blog
subscribe to the RSS feed file
Dum Dum Girls - He Gets Me High EP
:: March 18, 2011
:: by Pat Hosken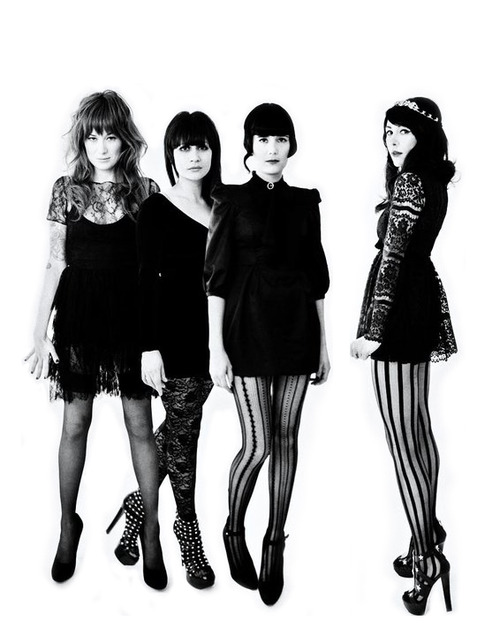 "Vintage" rock 'n roll is valued highly in today's music scene. In a realm where electronic beats, computer programming and even auto-tuned vocals are present in music still labeled as "rock," Dum Dum Girls slide in on a wave of refreshing nostalgia.
He Gets Me High is the third release from this fuzzy quartet after last year's debut-LP, I Will Be and an earlier EP in 2008. SPIN's Kenneth Partridge stated that Dum Dum Girls are the answer to the question: "What if the Bangles and the Cure had mated in 1982?" That's a boiled-down definition, but these sunny rockers also channel The Stones, The Smiths and a lot of peppy '50s surf rock into their infectious jams.
The title track is a tight tune in the vein of last year's single "Bhang Bhang I'm a Burnout." Crunchy bass leads the song into pounding drums and full-bodied major chords and, of course, leader Dee Dee's beautiful melodies that jump in the air like long, black hair bobbing down the stairs. If the melodies don't get you, the simultaneous bright-and-dark musicality will.
Rounding out the 14-minute EP is a roaring cover of The Smiths' "There Is a Light That Never Goes Out" that updates and Americanizes the morose and quaint original tune. It's the same song, only this time it sports black fishnets and bright ruby lipstick. Dee Dee keeps Smiths' singer Morrissey's cadence catchy and tight, never letting the song become anything but her own.
Dum Dum Girls are vintage indeed—a throwback to a time when music was made with guitars, drums and catchy melodies. The disc itself comes in its own Sub Pop sleeve, like a vinyl album would, that means even the CD casing is vinyl. Dee Dee and the gang keep it real, and keep it real-cool on an EP that shows a bright future for her girls.
---
Listen to their cover of the Smiths' "There Is a Light That Never Goes Out":